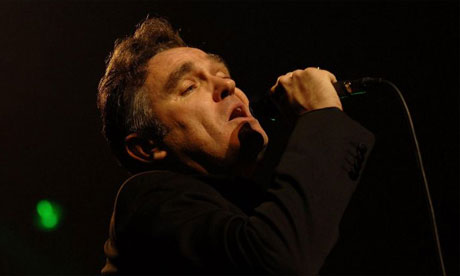 Courtesy of The Guardian
Glass bottles, glowsticks and heckles have all been known to force pop stars off stage. Add to that list the smell of burgers. That's the reason Morrissey gave for leaving the stage during his set at Coachella festival in California on Friday 17 April. [LMAO!]
The singer was performing a set laced with Smiths hits when, midway through his performance, he was overcome with fumes from the backstage barbecue. "I can smell burning flesh ... and I hope to God it's human," [How charming and revealing!] he said. This was no mere wisecrack, though. Halfway through playing
Some Girls Are Bigger Than Others
, Morrissey decided he'd had enough and walked off stage.
The star did return to finish his set, however, declaring: "The smell of burning animals is making me sick. I just couldn't bear it." Along with a selection of solo hits, the crowd were treated to blasts from the past including
Ask
,
Girlfriend In a Coma
and
How Soon is Now?
I met an attractive lady at a pub the other night whose boyfriend, who had broken her heart and been unfaithful to her, is about to set off on tour soon with his band supporting Morrissey. She availed to me two Morrissey facts of which I was hitherto unaware.
1.
He will not speak to someone on his tour if they have had a cigarette one minute prior to speaking to him.
2.
Nobody on the tour is allowed to eat meat.
Hmm...now where are my fags and where did I put that ham and pickle sandwich?