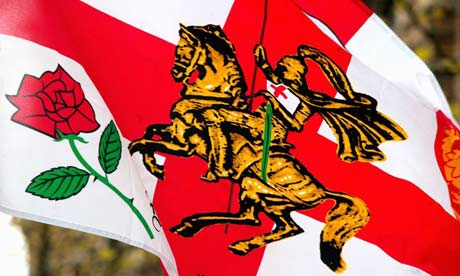 'Gordon Brown marked St George's Day today by flying the flag of St George over Downing Street.




It is the first time in recent years that the flag has been raised at Number 10 to mark the annual occasion.




Downing Street has two flagpoles, and the red-and-white banner will fly alongside the union flag.




Other UK government buildings in England that have two flagpoles were also encouraged to fly the St George's flag. Where just one flagpole is available, such as the Houses of Parliament, the union flag – which takes precedence over national flags – should be flown.




Brown will also fly the Scottish saltire on St Andrew's Day and the Welsh dragon on St David's Day. Northern Ireland does not have an official national flag to fly on St Patrick's Day. The move follows a review of flag-flying practices ordered by Brown when he became prime minister.




Downing Street said that, in accordance with protocol, the union flag would fly on the "superior" pole, deemed to be the one closest to Buckingham Palace. Brown's spokesman said: "The prime minister's view is that of course we should celebrate our Britishness, but celebrating our Britishness does not mean we cannot also celebrate our Englishness, Scottishness, Welshness or Northern Irishness."




The last time Downing Street raised the flag of St George was during the 2006 football World Cup.'
Interesting. An appeal to nationalism, or call to conversion? That
St George
...wasn't he a Catholic? When he wasn't slaying dragons and rescuing maidens he was obviously covering up for paedophile priests. I mean, he
was
Catholic, wasn't he?
Here is Brighton you can't move for the street parties. Booze is flowing out onto the streets and people are embracing each other in fraternal love and a spirit of holy joy, in scenes not witnessed in Brighton since Gay Pride last year. There's early music bands playing in the streets, happiness, dancing, merriment and mirth. The rich and the poor are mingling, sharing folklore stories and swapping shoes with holy, properly gay abandon.
Thanks be to God for the Labour Government, who called for a recognition of this national Holy Day so that the nation which once gazed up fondly at the loving countenance of the Blessed Virgin from her lap, so sweetly and gladly that she called it her own Dowry, could recall its patron saint, St George and so that we may joyfully celebrate his Feast and invoke the saintly knight heartily as a mighty intercessor, in the continued defense of Christendom against the evil and pernicious rise of secular atheism. Gosh, we'll all have headaches tomorrow but it is a special day and one I'll remember for years to come.
Thanks Gordon!