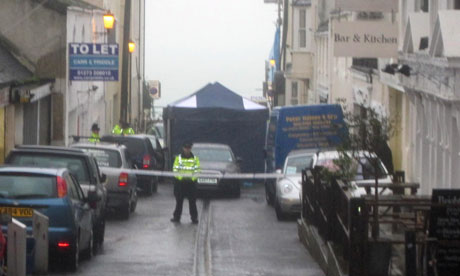 A Brighton man has been killed by Sussex Police
This is a disturbing story. A Brighton man in his 40s has been shot by Sussex Police and has died from his injuries.
The Guardian
reports...
'A man shot by police officers in Brighton has died in hospital, Sussex police have said.
The man, who has not been identified, was shot by firearms officers just after 1pm in Rock Place, Kemp Town, east of the city centre. The incident occurred during an operation "to locate a man wanted in connection with a number of crimes in Sussex in recent months".
An earlier police statement said the man was injured and had been taken to hospital.
An area around the shooting has been cordoned off. The Independent Police Complaints Commission has been informed. The Argus newspaper in Brighton reported that the man, in his 40s, died at the Royal Sussex County hospital.
Frankie Sparrowhawk, 18, said he witnessed the aftermath of the shooting. He told the Press Association: "I heard two gunshots and saw someone lying on the floor. There were five or six police officers there at that point. I was too far away to see if he was moving but it looked like one of them was trying to resuscitate him. An ambulance arrived within about two seconds."
The Sussex force has been involved in other fatal shootings.
An officer was tried for murder after James Ashley was shot dead while naked and unarmed during a raid at his home in St Leonards-on-Sea in 1998. PC Chris Sherwood, who was acquitted in May 2001, said he believed Ashley was pointing a gun at him. One officer was cleared of misconduct and three more of negligence in separate criminal cases. Seven Sussex police officers faced disciplinary action over the shooting and the Ashley family were awarded undisclosed damages in 2009.
A few more details would not go amiss in this story. Was he armed? If not, why shoot? Can Police just shoot someone because he is 'wanted in connection with a number of crimes' in the area? Why shoot him if he is wanted 'in connection' with crimes? Don't you need to ask questions first, interview him under caution, arrest him? May his soul rest in peace.