'Too uniform and rigid': A child responds unfavourably to a papal insult
Readers may or may not have noticed that my blogging output has decreased recently. This is because I have been working longer hours at a local cafe and I am exhausted. Indeed, these bones have been crushed! I've got today off and my legs are killing me. All this work business - I'm sure I wasn't made for it. All of a sudden, monastic life looks very appealing!
I look forward greatly to the time when the capitalist system is 'reformed' since both
Prince Charles
and
Cardinal Maradiaga
desire the same thing on this matter - one in order to save the planet - and the other in order to save the poor (and the planet). According to the Cardinal, the poor cannot wait. In a way, he is right. Won't the Second Coming be wonderful for the poor who lived for Jesus and who trusted in His mercy and grace? No more toil, no more oppression, no more hunger and pain and every tear wiped from every eye that hoped in the Lord. All that will be will be the enjoyment and praise of God forever, assuming you haven't died in mortal sin and condemned yourself to eternal fire and banishment from the perpetual vision of God.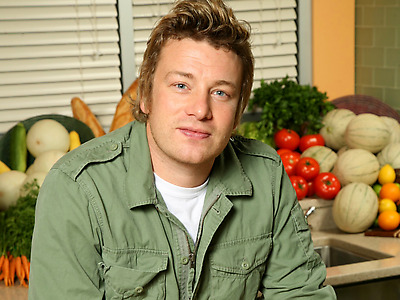 Minted: Pays his restaurant's waiting staff minimum wage
In the meanwhile, I am sure readers will join with me in earnestly looking forward to the day when, in the name of justice, fraternity and solidarity, this tired cafe assistant on £6.50 an hour (that's 20p more than Jamie Olivers's waiting staff - I know because I've talked to them...) will have the same 'quality of life' as David Rockefeller and Henry Kissinger.
When the powerful of the world 'reform' the economic system and the Church's 'social teaching' triumphs, you can guarantee that justice and freedom will prevail. It won't be anything like communism - no way! If anyone has a private jet, a mansion and a swimming pool, under a 'reformed' economic system, you will have one too, because there will be no more 'inequality' which, as we know, is the 'root of all evil'.
Now that marriage has been redefined, I also look forward to the day when work has been redefined and I can turn up to work, get a coffee, grab my laptop and tell the customers to make their own drinks and do their own washing up. I won't have to work 9am-6pm with only 20 minutes break anymore. I can just kick back and relax...
"The coffee machine is just over there," I'll say. "If you need a mug just wash it up in the kitchen. While you're at it, I'll have an espresso since you are up. Yeah, that's right, you just pay the money into the cash-till and take your own change. If you want food then you know where the kitchen is."
Anyway, given that my hours have increased at the cafe and I don't have a great deal of time to keep up with the Pope's relentless insults, I wonder whether there is anyone with a bit more time on their hands just to keep abreast on Vatican Radio of papal insults.
I will try to keep up with them but I must confess I believe there have been so many the past few days that I may have missed one or two. If you want to help, just drop a comment on the
Pope Francis Little Book of Insults
page and I will be able to update the page at a later date. If not, no worries, I'll get around to it in the end. They just come so fast and I don't want to miss out on the Pope's eloquent and compassionate instruction of his spiritual child. You know what they say...spare the rod...
What my allotment does not look like
Ironically, my boss is called Francis and he's something of a tyrant as well. He's recently finished building an extension on his house. I guess that's where the staff holiday pay, sickness pay, pay increases and pension scheme contributions went. Oh well, who am I to judge?
Having worked my sorry little behind off all day at a local cafe, there's nothing more I like than to go up to my allotment. Well, there was. The Council have sent me a letter telling me they will take it off me if I don't plant more vegetables and cultivate 75% of the allotment. Honestly! Who are they to judge!? It is cultivated! With weeds! I'd love to cultivate it, but I don't have the time!
If you'd be so kind, say a prayer for me. No offense to other cafe assistants, but I can't quite get over this feeling that I'm wasting my life. It's not necessarily true, its just what catering does to you. Come, Lord Jesus (but not too quickly please as I need to go to Confession)! Anyway, here's to Cardinal Maradiaga's end to inequality plan. See you in the Galapagos Islands soon!
One last question: Once everybody but the elite is equally
poor -
as Latin American State-based socialism usually ensures
-
will His Holiness still live rent-free with on-call room service in a plush hotel in the Vatican or will Mgr Ricca be presenting His Holiness with a bill? Or is that an invoice that will be presented to His Holiness's corpse?