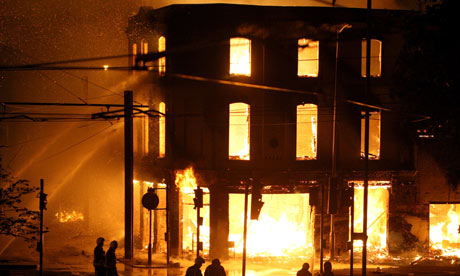 A new cause has been linked to the rioting taking place over the United Kingdom.
A Catholic RE teacher at a city school has been taken in for questioning by police as playing a leading role in the anarchy that has engulfed the capital and spread across the country.
It is alleged that the unnamed teacher, covering the subject of Hell, told a class to "go away and think about what the Church's teaching on Hell really means and when you come back over the summer holidays, show me the results of your reflection". The teacher was arrested under both the Riot Act and the Anti-Terrorism Act and will be detained for further questioning.
Meanwhile, in Toxteth, a Catholic priest has been arrested for giving directions to looting youths telling them that, "there is a massive range of hi-tech goods and trainers a mile down the road at the local abortion clinic, now go get them."