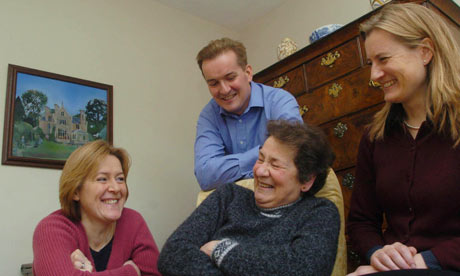 Dr Anne Turner: her son Edward (centre) has raised questions over assisted suicide.
Photograph: Johnny Green/PA
We can only assume that when this photo was taken, these doctors were not discussing assisted suicide, but then, hey, in their profession, I guess they need a sense of humour...
Today
The Guardian
pens a good article [shock!] about the concerns raised by several organisations about the way in which Dignitas operates. Dignitas, is, of course, the world-renowned 'clinic' where you can get bumped off at your own request and at a price that's high.
'Senior doctors will tomorow express concern over the number of Britons suffering from non fatal illnesses such as rheumatoid arthritis and kidney disease who have used the Swiss suicide service, Dignitas.

Their fears were raised after the Guardian obtained a list drawn up by Dignitas which reveals the medical conditions which have driven 114 Britons to end their lives at the clinic.

The document shows that while many had terminal illnesses such as cancer and motor neurone disease, others had non-fatal conditions which doctors say some people can live with for decades.'
Click
here
for full article...