"Behold this Heart which has loved men so much, and yet men do not want to love Me in return. Through you My divine Heart wishes to spread its love everywhere on earth."
The young people next asked the pope what was the reason for his great love for the poor. "Because it's the heart of the Gospel," he replied. "For me, the heart of the Gospel is about the poor."
A blogging priest recently described Pope Francis
as a
"puzzle inside a riddle wrapped in an enigma" and I must confess that I, too, find Pope Francis's thought and homilies puzzling and at times disconcerting and I was quite taken aback by much of his thought expressed in the interview to some Belgian youths. Despite the Church having one of the most verbose Popes in living memory, trying to understand 'where Francis is coming from' I still find to be something of a challenge that I did not experience in the reign of Blessed Pope John Paul II or Benedict XVI.
I understand here that we have a Pope who speaks 'from the heart' and 'off the cuff' and that we should, perhaps, not try to read
too much
into words that are apparently not carefully prepared for public consumption. Yet, with Francis, certain things either chide or niggle away at you. At one point, it seems, "mercy" is the heart of the Gospel,
as it is today in his homily
. At another point, the poor, "for me", are at the heart of the Gospel. Yet, you could be easily forgiven for thinking that, equally, for Pope Francis, challenging the "throwaway culture" is at the heart of the Gospel, or fraternal sharing, justice or solidarity are at the heart of the Gospel. For many high ranking prelates in the Church today, "ecumenism" is at the heart of the Gospel and it certainly seems important to Francis.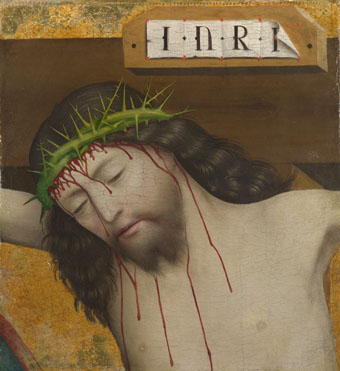 With Benedict XVI and with Blessed Pope John Paul II, it was quite clear that at the heart of the Gospel was or
is
Jesus Christ and his
transforming
love, mercy and grace. Both made it quite clear that the Gospel, given to us by Our Lord, taught by His Church, touches
everything
, every individual, every family, every society, nation, that nation's politics and economics and every individual's thought, word, commission and omission. It touches marriage, our respect or lackthereof for human life.
It touches whether I blog, whether I am charitable to others, or not, how I spend my money, whether I am chaste or give into sexual temptations, whether I pig out in Lent, or restrain my self, whether I turn up for work, or lay in bed instead, or whether I decide to knock blogging on the head for Passiontide. For me, it is difficult to pin down the 'heart of the Gospel' to one thing and I really expect that for Blessed Teresa of Calcutta, while her work was in the service of the poor and dying, the poor and dying, to her, were not necessarily 'the heart of the Gospel' because even the little 24 hour on call Saint of the poor was concerned with
loving Jesus in the poor
,
loving Jesus and serving Him alone
.
"For me" the heart of the Gospel may be about the poor, but equally "for him" it may be about devotion to his marriage and his family, but whatever the 'heart of the Gospel' is for a man or woman, it would be surprising and worrying if
Our Lord Jesus Christ
was not absolutely at the heart of it because His Heart is meant to be everything to the Christian who is
helpless
without his Saviour. Our Lord's words on Marriage are quite clear and for one man this may well be at 'the heart of the Gospel'. For a contemplative lay man or woman, nun, monk, friar or priest, devotion to the Sacred Heart, to the Holy Eucharist, to Our Lady may be at the 'heart of the Gospel' or perhaps finding Jesus in living in community. To another, 'self denial' could well be at the 'heart of the Gospel' since Our Lord told His followers to 'deny yourself, take up your cross and follow me'. Are they not all right? As long as the focus is the Lord, they surely
are
.
"This is the banner of the Gospel, not of communism: of the Gospel! But it's poverty without ideology…. And it's for this reason that I believe that the poor are at the centre of Jesus' message."
If we are not to fall into the trap of creating idols out of Faith, we have to immerse ourselves in the raw fact that
without Jesus Christ
,
nothing
we undertake for the good of humanity and its materially poor will be a success. We could go further still and say that
unless
we are undertaking some good for Jesus Christ, seeking, if failing as we do, to
fulfill the will of God
, little we do for humanity will benefit mankind or profit ourselves. For this reason, I also find the following a little troubling...
"We're all brothers and sisters. Believers, non-believers or whether belonging to this or that religious confession, Jews, Moslems… we're all brothers and sisters! Human beings are at the centre of history and this for me is really important: humans are at the centre (of society). In this moment of history, humans have been pushed away from the centre, they have slid towards the margins and at the centre --- at least right now --- there's power, money and we must work on behalf of human beings, for men and women who are the image of God."
On the face of this statement there is nothing to trouble the Christian. Nobody can deny that we are all, indeed, 'brothers and sisters' created in the image of God and that in this moment of history, humans and our needs are being pushed to the margins by those who worship false idols of power and money, but has there been a moment in history when this has not been the case? We can acknowledge that things are 'really out of hand now' but is not the problem rather created by us because we human beings fail lamentably to put
Jesus Christ
and His Gospel
at the centre of our lives, our families, our societies, our nations? Of course, to put Jesus Christ
first
and to proclaim
Him
and to build all our hopes, dreams and aspirations on a relationship with Him might not immediately go down well with Moslems and Jews (and Freemasons) but it would be 100% faithful to the Lord when anything else but fidelity to Christ will yield little in terms of freedom or a more just society. The great tyrant is sin. The great tyranny of sin is enthroned by moral relativism. Jesus Christ is the Liberator!
If the 20th century taught us Catholics one thing, it should surely be that we don't have anything better to offer the world than Jesus Christ. A part of that expression of love for the Lord may well be the relief of the poor, but it is surely important that we make plain that any mission for the poor is a mission firstly for the love of the Lord Jesus.
I've been reading a book on the KGB and British defectors who infiltrated MI5 but who were working for Moscow and it is clear that all of them thought they were doing a great service for
humanity
. None of them, of course, had much thought for the Lord Jesus Christ. They all believed we were 'brothers and sisters' or rather 'comrades' and all believed that to fulfill the ultimate destiny of the human race we must work against power, money (and the capitalist class system) and put human beings firmly at the centre of economic and political life. It did not work out well, but then, when you abandon God, our only Sovereign Good, what do we expect but misery?
If -
and it is
- for all of us Catholics, our sole mission was to love Jesus Christ and to fulfill God's will for our lives in matters both great and small
and
we strove with God's grace to be faithful to that mission, I suppose that not only would the poor be better loved, fed and cared for, but marriage and family life would be bliss, 'same-sex marriage' would be overturned by populations convinced by the truth of Jesus Christ, abortion, instead of the unborn, would be wiped out and sin - and all attraction to power, money and 'worldliness' - would dissipate because the Devil and the self would be the chief enemy of every Christian. Why are we not that? Why are we not Saints - the real and ultimate purpose for which we were created?
"Jesus repeats it so often: "Don't be afraid! Don't be afraid!' And he says it many times, doesn't he? And why's that? Because he knows that fear is a rather 'normal' feeling. We're afraid of life, we're afraid when faced with challenges, we're afraid in front of God. We're all afraid, all of us."
And with good reason. Why are we afraid? Because at the heart of the Gospel is our sin, our need and longing for Jesus Christ, our need for repentance and turning towards the Lord
constantly
! And if we are doing this, the poor will most certainly know it since they will be surely among the beneficiaries! Even politicians, when caught with their fingers in the till, if they embraced repentance, might resign!
"And I'm pleased because these young politicians, be they of the left or of the right, they're speaking a new language, with a new music, a new political style."
I have placed my trust in neither princes nor politicians and, if ever it was, now is not a good time to do so.
Once a politician, always a politician
and no matter what language they're speaking, you can't really place your trust
firmly
in them. Today they tell you they've no plans to redefine marriage. Tomorrow, they redefine marriage. Today, they tell you there are 'no plans to introduce assisted suicide', tomorrow they offer a free vote on it because giving the State the right to kill its elderly, terminally ill and 'unproductive' is a 'matter of conscience'. Today they tell you they are fighting communism and terrorism, tomorrow they're funding terrorists, undermining the family and espousing militant atheism. I don't even trust Nigel Farage, for a 'new political style' has masked how many a tyrant?!
St Francis of Assisi taught us that there is something
worse
than poverty -
lacking Jesus Christ
!
St Francis taught us that there is something
better
than riches -
Jesus Christ!
St Francis of Assisi taught us that there is something
better
than
this life
-
possessing Jesus Christ in this life and for all eternity
!
Too long, too long. I should give it up for Passiontide.