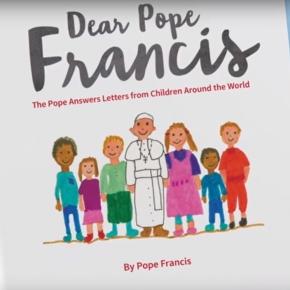 Binary answers are not included.
The image (left) is a charming little book that some readers may recall was published of answers to letters from children around the world.
It just goes to show that Pope Francis is only too happy to answer letters on various themes and questions - nothing binary mind - when answers are sought.
Presumably, his answers to the dubia are on the back-burner for the time being, until the illustrations have been well and truly completed.
While we await
'Dear Pope Francis: The Pope Answers the Four Cardinals Doubts on Amoris Laetitia'
, by Pope Francis, any help readers could give me in updating my online little book of Pope Francis insults would be most appreciated. It has been a long time since I have updated the book and a small team of readers who had a bit of time on their hands to search Radio Vaticana and various publications to update his exhaustive list of insults would be very helpful. This is a work for the Church, a document also for Church historians - a veritable 'go to' site for those - perhaps a College of Cardinals - who will wish to 'review' and 'discern' the content of the Francis papacy in years to come.
If you can help, contact me at the email address in the right-hand sidebar.
Look very carefully and it becomes very obvious precisely why the Jesuits were suppressed.
Today, like yesterday, is, I believe, 'international buy your parish priest a saturno' day. Don't wait until Christmas. Every parish priest deserves one. Preferably one with the vital quality of rigidity. A floppy saturno
simply will not do
.