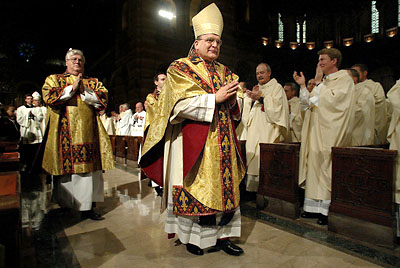 Archbishop Raymond Burke is to be one of 24 new Cardinals
...has
been made a Cardinal
!
Listen to this...
'Obedience to the magisterium and the demands of the natural moral law are not only important for salvation, but are especially required of Catholics if a culture of life is to be advanced in today's world. Man is tempted to view the magisterium in relation to his individualism and self-pursuit.'
Of bishops: "When shepherds of the flock are obedient to the magisterium entrusted to their exercise, then surely the numbers of the flock grow in obedience," he said. "If the shepherd isn't obedient, the flock easily gives way to confusion and error." Quoting the Prophet Zechariah, he said the shepherd can be "especially tempted" by the assaults of Satan who, "if he can strike him, the work of scattering the flock is made easy...Where there are problems of chastity, there are problems of obedience." Rebellion against the moral truth, Archbishop Burke noted, "is a rebellion against God and all that he teaches us."

The archbishop also stressed that today's culture "teaches us to believe what is convenient and to reject what is difficult for us or which challenges us," thus leading to a "cafeteria Catholicism" which "picks and chooses which parts of faith to practice." He noted how this happened even among some bishops when they dissented from Paul VI's encyclical "Humanae Vitae."
Did you get that? I think he just mentioned the words chastity, salvation, Humanae Vitae, error, Satan, obedience and magisterium in just three paragraphs. Gosh! All sounds a bit extreme to me! Anyone would have thought he was a Catholic Archbishop with zeal for souls or something. He sounds like just the kind of Cardinal
The Tablet
would absolutely love! Go on, stick him on the front cover, why not?! I'll bet Mgsr Basil Loftus is over the moon as well. Oh yes!
The litigious prelate of the Church
, I'm sure, would be the first to want to congratulate Cardinal Raymond! Look, here he is celebrating Solemn Pontifical High Mass in the Usus Antiquior at St Peter's...