I'm not convinced that Charlie Hebdo magazine meets the criteria of
what satire is
by definition. Religious belief is not stupidity - though there are some very stupid religious beliefs out there - nor is religious belief of itself a vice or an evil. Neither am I convinced there was any genuine humour, or irony, or even exaggeration in Charlie Hebdo's cartoons. It seems there was plenty of malice employed in Charlie Hebdo's work, a desire to cause great offence and shock for the sake of it, a desire to be provocative and hurt the sensibilities of the religious.
I think people are getting confused between satire - which by its use of humour and irony exposes stupidity - and
blasphemy
, which simply mocks God and religion. Satire is entertaining and enlightening because it can also be edifying. Satire, when done correctly, doesn't simply run people - or people's beliefs - down for the sake of it, in order to be gratuitously offensive, but instead uses humour to
tell the truth.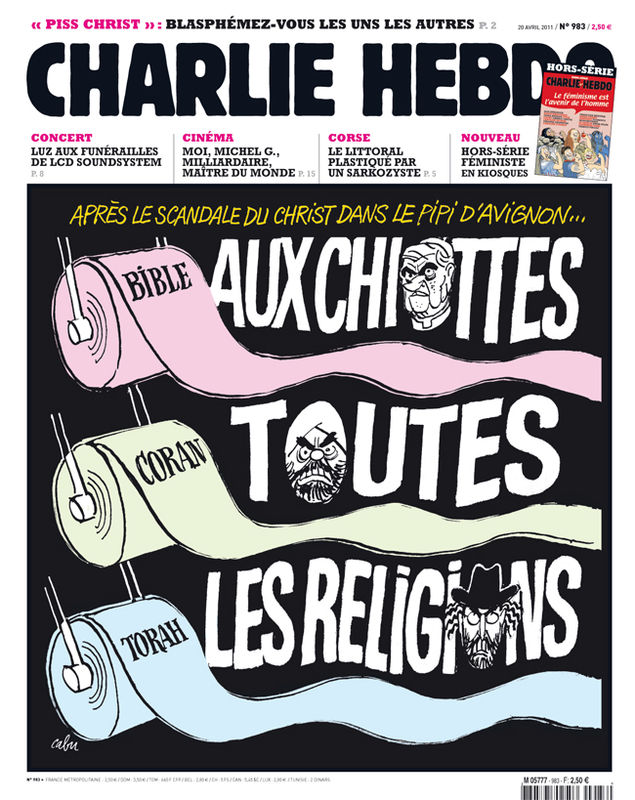 This is one of the lighter front covers.
Satire is a humourous tool in the service of the truth. Private Eye's great success was built on its ability to tell the truth in a funny way. It is not a tool simply used to be offensive for the sake of being offensive without some reference to the truth. Truth is at the heart of what satire is. Charlie Hebdo's cartoon didn't have any respect for religion, God or truth. It didn't expose vice or stupidity, but instead ridiculed those who believe.
When satire isn't necessary: Political leaders show their citizens how to behave at a funeral
I agree with
Faith in Our Families
. Now that David Cameron has guaranteed your freedom of speech, without fear you can proclaim marriage to be between a man and a woman, fornication and homosexual acts to be gravely evil, proclaim 'same-sex marriage' to be contrary to the natural law, gay adoption to be an abuse of the child, you can denounce the sexual immorality of the age, rail against the scourge of Freemasonry, declare abortion to be the murder of the innocent unborn and declare salvation to be found only in the Catholic Church.
With all that said, may God bring peace to France and eternal rest to the victims of this barbaric act of murder, justification for which there can be none.