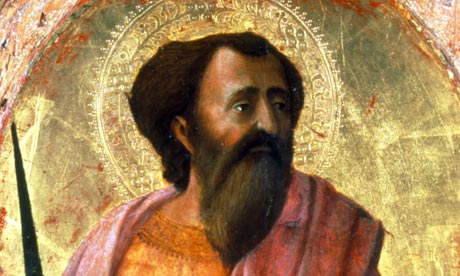 'For that which I work, I understand not. For I do not that good which I will; but the evil which I hate, that I do.'
'We are blasphemed, and we entreat; we are made as the refuse of this world, the offscouring of all even until now.'

'I have fought a good fight, I have finished my course, I have kept the faith.'

With such words the Apostle, St Paul, instructs the Faithful on keeping the Faith.
Fr Ray Blake
has made a moving plea for prayers for a homeless parishioner called Paul. I am so glad that traditional Catholic site,
Rorate Caeli,
have also picked up on his post not only for Paul's sake but also to bear witness to the harmony between the Church's law of prayer, law of belief and the law of love of the poor.
Paul, a homeless man who struggles with alcohol addiction, a Catholic, is dying of sclerosis of the liver. He believes that his dissolution is near at hand and came to Benediction last night where he knelt as long as he was there. Permit me to give a small example or two of this man's extraordinary faith, a faith which puts most weekly Mass-attending Catholics (myself included) to shame.
On the Feast of the Epiphany, Fr Blake left his Presbytery door open in accordance with the traditional custom so that if any man was wise he may enter in. There was a parish party to celebrate the occasion of the Feast of Holy Church. Paul came in and asked to be able to pray in the Church. So, I led him down to the Church and turned the lights on for him to pray. Immediately, he walked to the central aisle and knelt before the Tabernacle where he prayed fervently, weeping. He did not appear to want to stay for the party and after some prayers took with him some food offered to him from the party.
On my way home, for some reason I was traveling a different route, I walked by the Church door and saw Paul laying against the Church door on the steps. I stopped and talked with him for a while. He told me then that he was dying of sclerosis of the liver. His face, on a cold and windy night, was pressed against the cold wood of the Church door. A parishioner obtained for him a duvet to cover himself with and offered him a pillow, but he didn't want the pillow as if he wanted his face to be 'as near to my Lord as possible' against the hard, cold wooden door. He asked to pray some psalms with him, or for him, so I did. He asked for a Miraculous Medal, so I gave him one. He attached it to the Rosary around his neck.
On the occasion of the Procession for the Feast of the Immaculate Conception of Our Lady, the procession was making route down Western Road past the rows of shops and cafes. Upon seeing the procession, Paul leapt up from his sleeping place outside Top Shop and for a time stopped the procession in its tracks, knelt before the statue of Our Lady of Walsingham and crossed himself. He remained kneeling and sought Fr Ray's blessing, which was given. If only we had his kind of faith!
I leave you these examples of a dying homeless man's extraordinary faith for your edification and to add my voice to those asking for prayers for him. We cannot guess the weight of the Cross that this man endures and yet he has not rejected the Lord's Cross - a Cross that involves great personal suffering, living, sleeping and most likely dying completely exposed to the elements. His humble, extraordinary faith is an example to us all.
Let us pray for him, as Fr Ray has asked, that he obtains happiness in the death which he believes is fast approaching. For the Kingdom belongs surely to little ones such as these, so often found to be the refuse of the World, an offense unto the wealthy and a contempt unto the proud.
Pray, too, for Fr Ray Blake. Much of his ministry with those poor who seek his aid at the door would surely make His Holiness Pope Francis, as well as Our Lady and her Son, very glad. Let us pray that Paul's faith, hope and great and childlike trust in the Lord Jesus will be rewarded upon his death with the crown of everlasting glory stored up for him.