Whoa there! Praise the Lord! Did I just hear a room full of Pentecostals cheering the Pope of Rome? Yes, yes, I think I did. I did! Amen, but its Septuagesima, so I might refrain from saying the 'A' word...for now!
Damian Thompson
highlighted the fascinating friendship between the Argentinian Pope Francis and English Episcopal 'Bishop' Tony Palmer. I watched the video on the eminent Dr Thompson's blog of Pope Francis making his 'heart-melting' ecumenical overtures to charismatic evangelicals and thought not a great deal of it. I was disconcerted by His Holiness talking of Tony Palmer as a 'Brother Bishop' since as far as I was told, Anglican orders remain null and void, but I thought to myself, 'Well, the spirit of Vatican II blows where it will...'
If you watch the video above, consider one of these...
What Damian did not show us was exactly
to whom this Papal message of fraternity was shown
and who its audience turns out to be and I hope His Holiness will not be too offended if I say that to me their beliefs seem highly problematic.
The Pope Francis message, according the footage above, was actually addressed to just one preacher and his (apparently) very, very prosperous flock. The name of this preacher is
Word of Faith
minister, Kenneth Copeland. You can go to Mr Copeland's website
here
.
If you watch the long video above (I skipped a lot of it) you will see precisely the audience Pope Francis is embracing, their 'style of worship' and the nature of their Christian beliefs. The 'spiritual hug' that Francis was sending was to an objectively, acutely heretical pastor and his followers, who for some reason think that just because Pope Francis sent a nice message, that what this really meant is that the doctrines of the Catholic Church don't really matter much anymore and with God's help 'we can all work it out' without conforming our beliefs to that of the Catholic Church.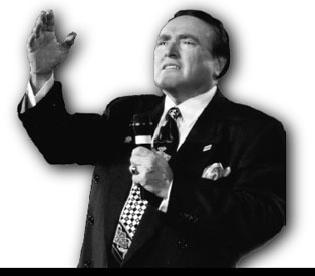 Even the
Wikipedia
entry on Mr Copeland's cult alone is pretty harrowing, according to which...
'Word of Faith teaching holds that God wants his people to be financially prosperous, as well as have good health, good marriages and relationships, and to live generally prosperous lives. Word of Faith teaches that God empowers his people (blesses them) to achieve the promises that are contained in the Bible. Because of this, suffering does not come from God, but rather, from Satan. As Kenneth Copeland's ministry has stated, the idea that God uses suffering for our benefit is considered to be "a deception of Satan" and "absolutely against the Word of God." Additionally, if someone is not experiencing prosperity, it is because they have given Satan authority over their lives. God will not do anything at all unless the person invites him to.'
KCMC Inside Edition
from
Louie Verrecchio
on
Vimeo
.
'Bishop' Tony Palmer states at one part of the footage above that Francis and he made a "covenant" when the two met in Rome on 14 February, the Feast of Sts Cyril and Methodius (and St Valentine). He doesn't really say what this "covenant" involves other than going on to proclaim with overwhelming joy that whatever it is that has divided the Catholics and Protestants for centuries is solved by virtue of the new Pope's
virtue
. In fact, Tony Palmer is decidedly vague about the nature of the 'reconciliation' that the 'spirit of Elijah' is beckoning him to achieve with Pope Francis between Catholics and Evangelicals, Protestant Pentecostals and Charismatics, but still, its an interesting word for Palmer to use. Why, one might ask, would the Vicar of Christ on Earth be making "covenants" with those who do not express any kind of wish to be converted to the Catholic religion, but who instead, seek 'unity'?
The Supreme Pontiff of the Catholic Church suggests towards the end of his message to the group that full unity will be achieved by God (
"ask and you will receive"
) and His Holiness seems certain of it, in an age in which some misguidedly desire 'certainty in all things'. The only problem I foresee with 'unity' with the flock of Kenneth Copeland and his worldwide Word of Faith ministry is that his followers believe in the rather unfranciscan Gospel of prosperity (
"ask and you shall receive"
) as well as numerous other heresies concerning the nature of suffering and, as one might expect, the Word of Faith movement has expressed zero interest in, or understanding of, the Sacraments of the Church, the role of Scripture and Holy Tradition, the Mass, the role of the Blessed Virgin Mary, the Priesthood, the Communion of Saints, Purgatory, Catholic worship and the true role of the Successor of St Peter and the Successors of the Apostles, the Bishops. Unity is a great thing, but all who become Catholic must accept Catholic doctrine, such as the perpetual virginity of Our Lady, who most Pentecostals believe was no different to you and I. In fact, she
was
sinless and
is
sinless.
May God forgive me for speaking out of turn, but exactly what kind of Miracle of God does His Holiness
expect
to appear that would see the Catholic Church unite with not just schismatics, but unrepentant, or even
invincibly ignorant people
? Why would any Pope see unity like this as desirable unless conversion to the doctrines is embraced with it? Loving the Pope is not the standard of Catholicism. Accepting the Magisterium
is
.
How can the Bride of Christ dream of welcoming in hoards of people who, and I cannot stress this enough,
do not believe what the Catholic Church teaches
aside from a portion of its morals and a vague belief in the divinity of Christ, though not, of course, the Divine Motherhood of Mary or much else concerning Church doctrine? An Evangelical Ordinariate would be great, if it was established for those who have accepted Church teaching.
Somehow, Tony Palmer, by quoting the Catechism of the Catholic Church on faith, works and justification, asserts that for Pentecostals in the global mega-church of 'Word of Faith', centuries of disagreement between the Church and the Evangelicals is over because Pope Francis sent a word of encouragement to the born again Evangelicals. "Luther's protest is over", apparently! Luther, bless him, just didn't understand what the Church was saying about faith and works. Even the Catechism says so!
One gentleman, called John Edwards, who may or may not remain an Evangelical Christian, blogged that he left 'Word of Faith', which he describes as an unhealthy "cult" and lists
31 reasons why their movement is wrong
and yet he, it would appear, remains a Protestant! So if a Protestant who has been in this "cult" rejects its heresies, why is the Successor of St Peter 'reaching out' to them only for the self-proclaimed pastor to call His Holiness, "Sir!"?
Is you a saved pusson?
Please, dear readers, do not think ill of me, nor that I have against the Pentecostal churches anything but the hope that they may recognise in the Successor of St Peter
His Holiness
, the Vicar of Christ on Earth - rather than a friendly man in white who you call "Sir". The Pope is also the Guardian of the Deposit of Faith and Chief Shepherd to the Faithful. The Faithful, as far as I am led to believe, are bound in conscience to accept all the Teachings of the One, Holy, Catholic and Apostolic Church as revealed by God and to reject error, false teaching and heresy for the good of our souls and that of others. That would, I think, include the 'Gospel of Prosperity'.
The very fact that Tony Palmer, at one point in the video describes himself as "saved" would suggest to me that he has little understanding of Catholicism, because if there is one thing we are meant to know as Catholics, it is that we cannot know, but only
hope
that we will be 'saved', since in a State of Grace we should not
presume
a favourable judgment and we can easily fall out of a State of Grace and into mortal sin quicker than you can say 'apostasy', die that way, choose to remain impenitent and descend immediately into Hell forever and ever. Friends they may be, but if anyone is in a good position to tell this to Tony Palmer, Pope Francis is, since they've apparently been friends for 20 years. Friendship is a beautiful thing, but quite why the Successor of St Peter is sending 'spiritual hugs' and ecumenical overtures to Word of Faith's ministry while its leaders defraud the flock of vast sums of cash in the name of Jesus while promising them earthly riches in return is bizarre. Feeling lovely about each other is not what Unity is about. Christian Unity is about
communion
in the Church with Peter who feeds the flock the
Catholic Truth
.
Pray for the Pope and for the
conversion
of all to the
One True Faith
.