It is worthwhile casting our minds back to that plane interview years ago when the Pope, when asked about Mgr Ricca and a homosexual scandal replied with his notorious, "If a someone who is gay is seeking the Lord and has goodwill then who am I to judge?" comment. He went on to quote, relatively accurately, a section of the Catechism, indeed he cited it as he said it, concerning the need for homosexual persons to be treated with respect, sensitivity and compassion.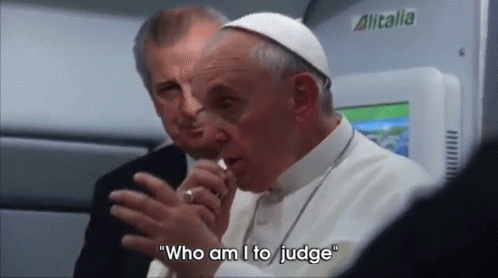 It just so happens that fellow Jesuit and brother in omission, the splicing and twisting of doctrine and the Gospel, Fr James Martin S.J is also very keen on quoting this section of the Catechism and utilising it for his ongoing LGBTQI ministry, a ministry receiving some powerful patronage and support in the Church, tacitly from Francis, who has no interest in reigning him in, and blatantly from oddball Francis Cardinal appointees such as ++ Tobin, ++ Blaise Cupich and ++ Kevin Farrell (for those who doubt please see evidence of his endorsement of Fr James Martin's book
here
) who pretty much endorse Fr James Martin's subversive ministry and want him in their Dioceses misleading their flocks. These men are very loyal to Francis and in particular to his contradictory, ambiguous and subtly revolutionary Magisterium.
This Pope has never - not once - taught in any document or speech or interview, those preceding parts of the Catechism which draw attention either to the grave sinfulness of the act of homosexuality or to the disordered nature of the attraction. Not even to the part that links the condition with the Cross. Nor has Fr James Martin S.J. Some people think that Francis is so muddle headed that he quoted from the Catechism, cited it but maybe 'doesn't know' in much detail what the Catechism says about those aspects of homosexuality that are not so palatable to the gay lobby both inside and outside the Vatican. I expect that the opposite is true. Both Fr James Martin and Pope Francis are well-informed and knowledgeable of the Church's teaching on homosexuality but both wilfully overlook and refuse to teach those aspects of the Church's position which conflicts with the militant gay agenda. We need to start asking serious questions about what role, if any Pope Francis plays in the homosexualisation of the Church, because by hook or by crook he is sure doing his bit.
In the case of Fr James Martin, despite the forgiveable formational disadvantage of being a Jesuit (like Francis), it has been pointed out to him
repeatedly
that his presentation of Church teaching is incomplete and lacking in Catholic integrity, because his foundational premise uses the Catechism's language of 'respect' and 'sensitivity' but quickly hurries to omit the rest of the Church's teaching on the subject and veer off into queering moral theology and risibly inserting his own subjective suppositions into his arguments for good measure. Just like Francis did, however he spends most of his LGBTQI ministry emphasising the affirmative, or morally neutral parts of Christianity. 'We shouldn't judge', 'LGBT people have dignity', 'I am sure there are gay saints', etc.
In 2015 Francis's had a private meeting with a longtime friend from Argentina who has been in a same-sex relationship for 19 years. For some reason, the Vatican thought it wise that a 'private meeting' produce images such as this for CNN etc.
In contrast, Pope Francis does not ever talk about homosexuality, but dear readers, in order to subvert the Church's teachings he really does not have to. Why? Because he has Fr James Martin to preach his true message unhindered and without any form of reproach. He cannot vocalise his true message without needless confrontation and controversy. We don't want to wake the children, do we? He clearly feels that on this subject he should remain silent. All Francis has to do is create the atmosphere for certain plants to thrive. Fellow Jesuit, and media advisor, Fr James Martin SJ talks of little else. It is almost like that is his
job
- to be the LGBT wing commander number 1, gunning down Catholic doctrine and firing bullets into the Church while Francis distracts people with his unique persona and, ultimately, his still growing cult of personality.
But what these two have in common is the feature of deliberate omission of the teachings as they are given for the Faithful's Christian instruction and following the gay scandals that have hit the Church in this pontificate, as well the abuse crisis scandal now rocking Francis, I cannot help but feel this tendency of both men is instructive. They are both behaving in precisely the same way. Martin feeds ferociously off Francis's ambiguity and sudden reports of paradigm shifts and Francis, using precisely the same dissembling methods as Martin, happily provides Martin with the doctrinal vacuum and ground-shifting paradigm changes he needs to advance his LGBTQI agenda in the Church. This is a symbiotic relationship, Martin lives off Francis and Francis creates the culture for Martin to flourish.
Pope Francis is pictured holding hands with the open promoter of homosexuality, Fr. Luigi Ciotti in March 2014
One begins to wonder: Are they in fact
working together
for the same cause? The 'emancipation' of the militant gay movement in the Church? A year or two ago, I wouldn't have thought so, I would have thought Francis was interested in subverting Catholic morality for reasons known only to himself, but the more I think about his conduct for the last five years, the more it appears that far from having any concern about the 'gay lobby' in the Vatican (who don't, like Masons, carry identity cards, as we know), his efforts appear to support and bolster their movement quite strategically and in a manner that is becoming more blatant purely by the kind of company Francis keeps.
Pope Francis being greeted by scandal-hit Mgr Ricca
On the sole occasion the Pope has really ever broached this subject - because of a gay scandal that made the question from a reporter inevitable - he followed directly the precise tactic of Fr James Martin in his campaign to manipulate and mutilate the Church's teachings on homosexuality by providing a foundation from the Catechism, ignoring the less popular truth revealed and inserting his own baseless paradigm where true Catholic doctrine should follow or appear, fixing it in a phrase suggestive of mercy and clemency but received as an attitude of calculated indifference to sin, even the language of sin.
The only difference between what the Holy Father did on the plane and what Fr James Martin SJ does weekly, is that the Holy Father's conclusion on the issue was couched in the language of objective and balanced neutrality, instead focussing on the need for lenient judgement of individuals of 'good will'. We might very well ask the question: Are those whose clerics whose scandalous lifestyles compromise the Church's teachings, who just so happen to be given special protection by Francis, really men of 'good will' towards the Church? We have it only on the Pope's authority that they are! Perhaps they are of good will
..to
Francis
, their faithful friend and ally! Humane 'neutrality' grounded in the need for 'dialogue' is a critical signpost of this pontificate and it informs everything from the China deal to the gutting of the Pontifical Acadamy for Life, to praising Emma Bonino to persecuting the FFI to saying 'There is no Catholic God'.
The latest in a string of homoerotic circus acts at the Vatican, but as if to
illustrate the Vatican's culture, these events pre-exist Pope Francis.
Of course, it is not really "neutrality" at all, it is the attempted destruction of Christianity by subversive and deceptive means. We know these things are all toxic to the Faith, but in order for 'neutrality' to be asserted, real Catholicism must be thwarted at every turn.
It is noteworthy too, that similarly, in the China-Vatican furore, Agent Parolin takes the 'flak', just as he does when he announces that Amoris Laetitia amounts to a 'paradigm shift' in the Church that replaces everything that has preceded it. Francis himself has never said, 'My Exhortation is a paradigm shift that alters reality, everybody!' It is not Francis that announced that an imminent 'breakthrough' deal with China is on the horizon, one that will replace faithful members of the Hierarchy with Communist stooges. Absurdly controversial and divisive figures have risen up to immolate themselves for Francis, make catastrophic decisions and say outrageous things to advance Francis's or their shared agenda, to take the heat off Francis by announcing these things themselves, but all the time they do it, Francis seems to look on applauding like a man who has just received another scantily clad man doing a circus performance just for him.
Pope Francis and Cardinal Parolin
Their job appears to be to look deadly and do seriously dirty work while Francis gets on with kissing babies and looking virtuous, granting everlasting plausible deniability to those dwindling number who still desperately want to think the Pope might still think like a Catholic.
Until Chile and the shocking Barros revelations it was all working a treat. Now
it is all falling apart
. Why? Because Francis overreached himself and
broke his own rule of survival
. He made very clear the Barros affair was his own personal decision and never laid it at anybody else's door. He
even
sacked 3 CDF priests for this guy's preservation. He
even
had a letter from a victim and laid himself open to charges of lying about his reception of evidence. He made the same error with Maradiaga who is conveniently absolved of guilt before adequate investigation. He now has to take ownership for decisions that look unjustifiable
in the extreme
. Protecting those who shielded abusers and who witnessed child abuse take place? Yes, TeamFrancis should be very worried now because even 'Mr Nice' in the mafia looks completely compromised and draped in both a rainbow flag and a red flag of corruption. The remaining question is, are these figures working for Francis, does he work for them, are they working for each other or are they
all working for an external force
?
New Ways Ministry are still rejoicing....
That said, another inch of the Francis mask has slipped this week, when it was announced his Lenten Retreat will be guided by a stridently
LGBT focussed priest
who thinks not much of Christ other than He 'hated rules'. A bit like Francis, then! Clearly, Fr James Martin is busy and has his hands full at the moment, so the Pope found someone else to guide the big gay retreat. Public knowledge of this is a massive hint drop of subtle approval of LGBTI ministry and queer theology in the Church. Those who hear of such news will assume this Pope is once more displaying his humane neutrality on gay issues.
Nobody will ever suspect that that the man in white is a subversive agent working towards the goal of the decimation of Christianity, or a major player in the homosexual lobby embedded in the Vatican, pursuing the normalisation of homosexual relationships and liaisons, or himself could potentially be mired in enough homosexual scandal to be blackmailed or controlled. No one will ever consider that, surely, because the Pope wears white, a symbol of purity. Right now, this Pope is only in Office because nobody can remove him. In the wake of this scandal, were he a bishop, Cardinal or priest, he would have been discreetly moved or retired off.
All of this begs questions: What did happen to the homosexual mafia report that Benedict XVI handed onto his Successor to deal with, who desired to see "filth" purged from the Catholic Church? And seriously, who else was at Cocco's party in Lent of last year? We might never know, but Pope Francis's own record on this issue might give some people reason for concern. We seem to now have a situation in the Church in which the gay agenda is flourishing freely in the walls of the Catholic Church. Francis is in a most sinister fashion aiding their cause so much that one could be forgiven for wondering whether he is, in fact,
directing it.
Whatever Pope Francis's role is in this growing epidemic, this contagion of heresy and the promotion of sin is afflicting souls in the Church, and homosexual persons are among the Faithful Catholics who, adhering to the Church's timeless Magisterium, and who seek to bear witness to the Truth, suffer real marginalisation within the Church. It is they, not renegade bishops, faithless clerics and LGBTQ ministry advocates who look more and more to be sidelined and shown the door to some deserted place 'outside the camp' but I'll let Joseph Sciambra, whose video appears at the top of this post, fill you in on that...