That much is clear!
May God bless Fr. Thomas G. Weinandy
(O.F.M) for writing to the Pope and for speaking out publicly.
May many more come forward to make the defence of the Holy Catholic Church, Her doctrines and yes, to defend the Office of the Papacy itself at this most critical time.
Poor Cardinal Nichols, usually such an astute media representative of the Church, is himself finding it difficult to answer questions about Pope Francis at the moment.
Even the media are waking up to the reality that 2 + 2 does not equal five and are asking uncomfortable questions.
Hugs?
Really?
Chaos and confusion over doctrines reigns supreme but...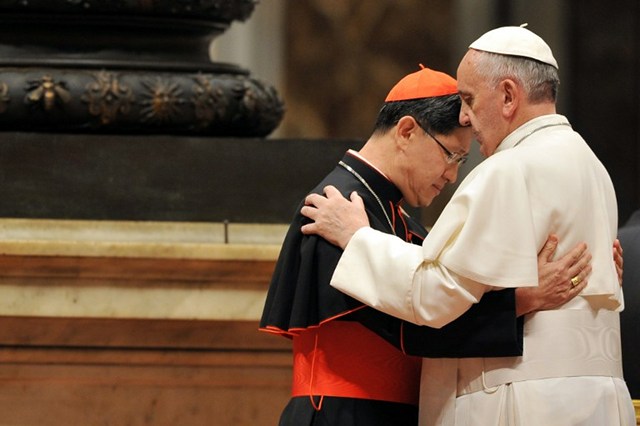 ...at least there are hugs!
Still, I suppose that Francis is not making it easy for Cardinal Nichols...
"There is no doubt there is tension within the Catholic Church, but one of its great strengths is that we have a Pope – and we have a Pope who can say yes or no and then give you a hug."
Hugs! How did the Church manage for so long without them?
Ironically, 'yes' or 'no' answers are what the remaining Dubia cardinals are seeking. So far, for them at least, no answers and not even...hugs!
Happy Feast of All Saints to all readers. May all the Saints intercede for the Church on Earth, so that the Lord may deliver His Bride from anarchy and bring Her to the restoration of Faith, doctrine and
sanity!