There is, I don't doubt, a thin line between suspicion, a healthy cynicism informed by observation of recent times and boggle-eyed paranoia.
The unique pontificate of Jorge Bergoglio has, almost every week, provided Catholics grounded in the perennial faith with an abundant harvest of reasons to have a deep mistrust of Francis, a trend which seemed to reach a crescendo with the veneration of an Andean idol in the churches of Rome last October.
I need not repeat the plethora of other Francis infidelities, unbelievable statements, nefarious deceptions, tyrannical moments or outright betrayals of Christ and His faithful to which observing Catholics have been witness.
In every way, Pope Francis behaves as an enemy of Christ and His glorious Cross, upon which He hung for the Salvation of the World. This Salvation won for the human race was eternal in its nature, by no means confined to temporal benefits, though temporal benefits are not excluded from God's generosity, for all good things come from Him, through His Son, Jesus Christ.
Pope Francis has eyes, ears and words only for this earthly life. He has intimated as recently as yesterday that humanity has indeed offended grievously and needs to reform and repair the damage that has been done. Unfortunately for Catholics, this work of repentance and reparation does not touch upon the Commandments of God, nor does Francis touch upon the scourge of grievous, mortal sin by which we cannot doubt the One True God is offended.
Yes, even in a time of pestilence, when men and women are dying,
dying without the Sacraments
, of debilitating disease, Francis cannot bring himself to prepare a watching world for judgement or eternity, his focus is solely on invocation that pleads that temporal disaster may be averted. And even in this time of pestilence, Francis cannot invoke the mercy of God and lead the flock in penitence for our having offended Him, despite the fact that idolatry pure and simple took place within and without Vatican building walls last October.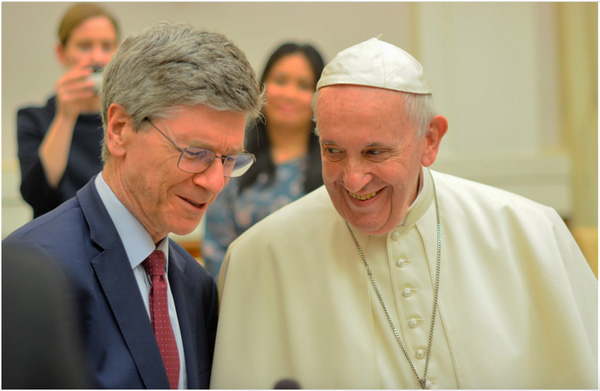 Francis with Jeffery Sachs at Vatican ecological meeting
Forgive me then, if I do not gush with praise at theatrical displays of piety in a deserted St Peter's Square in the pouring rain. Is there any reason at all that a man who has lived for the camera as much as Francis would do anything in the eyes of the whole world that was authentic and genuine now? Because of disease? Because people are dying? Even now, even with Italians
suffocating to death
, presenting themselves before the judgement seat of God after they breathe their last, even
now
, Francis cannot teach the flock of a God who punishes sin, corrects sinners and brings us to our knees that we may discover Him once more and die to sin, rather than die in mortal sin and be lost forever.
Francis, however, is doing
something
. He isn't
inactive
. What is he doing? Francis is
setting a stage
and out of the greatest catastrophe to befall the world since the Second World War, Francis is sketching a narrative, a grossly fantastical secular narrative devoid of any reference to true religion, one which he expects all of us, Catholic or not, to believe. It is, essentially, the atheistic, even communistic dogma with which we have been bombarded in what can only be called psychological warfare for years and years.
The pillars of the theatre stage being erected would seem to be, astonishingly,
no public Mass
anywhere in those regions affected by the virus (which is more or less everywhere!), not even in Catholic Poland! St Peter's is still open, but I am told that's just about it. Edicts have been passed down by virtually every Bishops Conference that Church doors are to be locked in the faces of Catholics. It is, apparently, the
merciful
thing to do, just as it is
merciful
to liberate Catholics from Friday abstinence because
disease
. Note that Francis does not entreat God that these buildings for the worship of God re-open and daily passes over the fact that the public worship of God has ceased, as if this is simply an irrelevance.
Instead, Francis points you, just like secular governments and media are doing, to the new (imposed, for you didn't choose this) reality of your domestic life, to the tireless and heroic work of medical staff, to operating within a 'non-essential', freedom removing lifestyle and to a pseudo-spiritual belief that the Earth is crying out to humans, who militant environmentalists consider a plague on that same Earth, to respect her authority and pay homage to her.
To Francis, it matters not whether even
all the Churches
in the world are closed, whether
all Sacraments
are withheld from the laity,
all Confessions
go unheard, the Sacrament of Marriage is
completely abandoned
, the sick and dying are left
unanointed
,
no new priests
are made or even whether
any Baptisms
take place! Nowhere has he lamented this cruel and tyrannical reality, the deprivation of the graces that make dead sinners live again! This, seemingly, does not concern him and to add injury to his gross insult to God, even suggests to God's people that this virus has shown us 'what really matters' and that God Himself and the life of grace are not included in his list. Incredible! And then, his work of shame is even applauded because the scene was 'moving'. Francis, I expect, is happy to use 'moving ceremony' as a vehicle to extend his false teachings if that's what gets people's attention.
'A global pandemic won't benefit me at all, oh no. How awful!'
Temporally speaking, Francis has not, as far as I know, protested, nor even
lamented
that the epidemic has caused
virtually every government in the world
to impose absolute tyranny on its people 'for the public good'. Can we imagine St John Paul II saying
nothing
about the fact that all of Poland was shut down but for pharmacies and supermarkets, that all of her churches were shut down, that no Sacraments were being dispensed, that all human freedoms had been removed from entire populaces? Emergency powers have been invoked across the Western world that involve a total takeover of civic and public life and
nothing
may happen without expressed governmental approval. Does Francis pray that
freedom and democracy
may return to the World and that citizens may once more enjoy the natural rights which have been taken away from them in the outbreak of a pandemic? No, he does not.
Therefore, please forgive me also if I retain just that
quiet suspicion
that the outbreak of this disease is just a little bit too convenient by far for incredibly powerful players on the world stage, for whom Francis is obviously at the very least an ally, if not an active and key particpant or agent. Everything he says supports the work of the totalitarian, godless, ecological, pagan and atheistic and even Satanic beliefs of the powerful men of this world. Francis is, in the midst of pestilence, giving a
spiritual dimension
to the agenda advanced by such groups as the United Nations and global governance advocates such as Bill Gates, George Soros, and nobody can protest it because
everybody is imprisoned!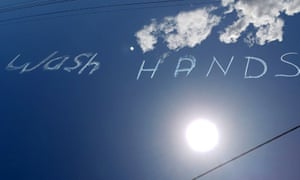 Chemtrail activists be like: "Remind me...How did this virus get in our city, again?"
As time goes on, we can therefore thoroughly expect Jorge Bergoglio to give tacit, if not active, vocal agreement to the new and radical solutions which will inevitably be proposed or imposed on us, Catholic or not, in that brave new world, that heartless dystopia into which we already find ourselves plunged. If government drones start following us down the street, will Bergoglio protest? I think not. If our movements, puchases, habits are monitored, if men are arrested for seditious acts like visiting Grandma, will Bergoglio protest? I think not.
If this lockdown is deemed so 'successful' for the global environment and the health of 'Mother Earth' that it is suggested to be a quarterly occurence in the year for the Earth to 'heal', will he protest? I think not. If capitalism is deemed to have 'failed' and a system of communism is proposed or implemented because governments basically destroyed capitalism in order to 'prevent public health deteriorating', will Francis oppose it? I think not. Will he tell us, like he told Chinese Catholics to simply be 'good citizens' who obey every freedom-crushing instruction given to us by the secular authorities? Well, he has form, this is what he told the poor Chinese Christians whose Churches are locked, later to be most likely demolished. It is, I am afraid, the nature of the beast to do precisely this. It comes as
second nature
to the
second beast
.
Friends, do not be deceived.
Be not deceived!
Hold fast to what has been passed onto you, pray much for our deliverance, we all have much to endure, much tribulation to undergo, but just as you should not be deceived, neither should you be afraid. God is with us! Be not afraid! Jesus, our Leader and our Captain, will not abandon us, nor will He leave us all alone. Observe what the lawless one does during this time and pray for protection against the deceits, theatrics and falsehoods with which you will be presented, for they will surely come, they will come as surely as the Lord Jesus will come to rescue His flock as Chief Shepherd and Lord and King.
Come then, Lord Jesus! Jesus, I trust in You!
Viva Cristo Rey!