On January 16th 2014, Pope Francis received Cardinal Roger Mahony and concelebrated Mass with him.
CWN reports
that it was in his homily for
this
Mass, that Pope Francis lamented the Church's abuse of the innocent and vulnerable. Said His Holiness
...
"But are we ashamed? So many scandals that I do not wish to mention individually, but we all know about them. We know where they are! Some scandals have been very costly. Okay..." At this point, Pope Francis spoke bluntly about the "shame of the Church" over those scandals that echo as so many "defeats of priests, bishops and laity."
Yikes! But what about Cardinals, Your Holiness? Harsh words indeed and a Cardinal implicated in a deeply unsavoury cover up of priestly abuse was in the room - that is - the Church when His Holiness said it! Is this Pontiff insensitive or unafraid to read the riot act to those who have reason to be unpopular within the Church because of scandal?

The problem, the Pope continued, is that "the word of God was rare in those scandals. In those men, in those women, the word of God was rare. They did not have a bond with God. They had a position in the Church, a position of power as well as comfort" but not "the word of God." The Pontiff added: "It is pointless to say "but I wear a medal, I wear a cross: yes, like those who carried the ark without a living relationship with God and with the word of God!" Then, recalling Jesus' words regarding scandals, the Pope repeated that scandals bring about "the decay of the people of God, to the point of weakness and the corruption of priests."
Readers, I'm a sinner, as you know, seeking the mercy of God, but if I were Cardinal Roger Mahony, listening to that I'd feel a little uncomfortable. Questions still remain perhaps over whether the Pope chose to fit his homily around his co-celebrant or whether His Holiness forgot the history of the individual concelebrating and that's arguably not ours to know. Nevertheless, you can read Cardinal Roger Mahony's account of 'My Lovely Day with Pope Francis'
here
in which he details the discussions he had with Pope Francis about immigration and some other matters of social justice. Your Holiness, if you want to know how to run a Diocese, or even the Church into the ground, just keep talking to this prelate. He'll tell you all you need to know.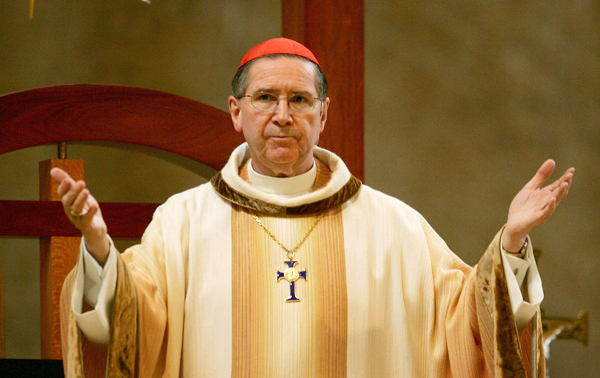 Cardinal Mahoney's reputation for being 'not particularly effective' at dealing with the horrific child sexual abuse (read:
rape
) committed by priests in his Diocese goes before him, so much so, in fact, that when news that His Eminence was to vote at the papal conclave, there were actual protests in LA about it. This can be seen
here
.
It is astonishing, given the appalling nature of the abuse that was well and truly covered up, first by Cardinal Law (
who was kicked out of his own church by Francis
on the new Pope's first day in the role) and then allegedly by Mahony in the Archdiocese of Los Angeles, as well as the damage done to the Church in terms of moral standing and financial 'pay-outs', that Mahony is able to continue blogging as a retiring Cardinal-cum-Archbishop Emeritus exercising full freedom in his ministry with zero public censure from Rome. There is, as yet, no formal censure, no formal reproach or indeed any demand by the Chief Shepherd or the CDF for a spirit or habit of repentance to be adopted by the individual whose record is publicly, and objectively and rightly so,
in disgrace
, though, naturally 'who am I to judge?'
Invited, however, the Cardinal was to vote at the conclave, to the bemusement of the many and joy of very, very few. The news report records how...

"Without my even having to inquire, the nuncio in Washington phoned me a week or so ago and said, 'I have had word from the highest folks in the Vatican: You are to come to Rome and you are to participate in the conclave,'" Mahony told the news service.
So the 'highest folks in the Vatican' (according to Mahony) called him up to help pick the man who will clean up the Vatican good and proper, despite the public scandal of his presence there?
"We need a Pope to clean out the augean stables at the Vatican. Let's invite Mahony to the party to help us pick the man! His track record is second to none!"
I guess those were the days when the Vatican didn't do PR very well. That will be the days
before
they
didn't lay out millions to gigantic corporations
to improve 'communication' or consulting firms that publicly support 'same-sex marriage'
etc
. Indeed, at the time, discomfort with Mahony being invited to vote in the conclave due to His Eminence's woeful track record in terms of the sheer
scale
of the cover up in his Archdiocese of priestly abusers made it onto the blogs with some commentators suggesting, '
This is a bit of a joke, right?
' But it wasn't a joke. It was for real.
Inappropriate it was, perhaps, but, indeed, Cardinal Mahoney was
jubilant
with the election of Pope Francis and made his feelings clear, with an unnecessarily barbed set of Twitter comments towards Benedict XVI on his social network account, suggesting that under Pope Francis we'd see 'Jesus without trappings' (unlike with the last guy who, you know, actually
knelt
at the Consecration and
knelt
before Jesus during Exposition of the Blessed Sacrament).
'Oh how I wish for a poor Church for the poor.' Well, after the litigation and payouts for victims of abuse covered up in the Archdiocese of Washington, he
would
say that. What a charming individual!
'So long, Papal ermine and fancy lace!'
In other words,
'So long, Papa Benedict! It was nice knowing you...have left!'
'New Pentecost?'
Good grief! Talk about hyperbole!
This was, unsurprisingly enough, to see
Rorate Caeli
,
National Catholic Register
and other commentators react angrily to a retired Cardinal whose lack of diligence and abnegation of duty saw his Diocese bleed $10million to victims of abuse
while he was at the conclave
suggesting that now the reign of Benedict XVI was over he was glad to ring in the arrival of someone who was new, more humble and refreshingly so. What cheek!
I am not saying, this Cardinal (Archbishop Emeritus) is an ecclesiastical leper and shouldn't be touched by any Pope with a bargepole. Of course, all Cardinals are human and prone to mistakes. I am, however, a little confused that Pope Francis should be so hot on Church 'scandal' on the day that Mahony steps in to concelebrate Mass with him in Rome and for the same Cardinal to be so effusive concerning his 'lovely day with Pope Francis'.
Are we meant to believe that Cardinal Mahony had esteem for Benedict XVI?
He's obviously in love with His Holiness Pope Francis even though, objectively speaking, he just publicly received rebuke from Francis on the Church and scandal during Mass, whether Francis
meant
to do so or not.
All I'm saying is, that its all more than just a bit weird that His Holiness should concelebrate a Mass with this individual and invite him in for a cosy chat when this person has dragged not only the name of Holy Mother Church through the mud, but presided over the Diocesan cover up of some of the most reprehensible crimes against the young committed by clerics in living memory.
Whatever it is that the Franciscans of the Immaculate have done, or indeed not done, it pales in comparison to the public scandal that is Cardinal Roger Mahony. Go figure! For the time being, Pope Francis remains an
enigma
. Maybe there are things said between Pontiff and Archbishop Emeritus privately that remain private and that's how it should be, or maybe this is an occasion on which the Successor of St Peter decided that it was not his place to judge. If only such mercy were accorded to
the blameless
. As it turns out, the maligned and despised Pontiff, Benedict XVI, saw to the defrocking of nearly 400 priests in two years for sexual abuse. How many did you defrock, Your Eminence, Cardinal Roger Mahony?